Eponashoe Testimonials
...from owners, farriers and vets, all in the UK.
If you would like to add your story please do email me - pictures also welcomed.
---
I have found EponaShoes and the Epona system a great tool for both maintaining healthy feet and therapeutic shoeing. They are lightweight and flexible with multiple support and attachment options. I have had good, rapid response from cases which have previously been stalled with no progress for months. Customers main area of concern, once the benefits of loading and shock absorption are explained, seems to be wear - I have not had any shoes last less than 6 weeks and in fact frequently refit. The shoe also benefits from extensive backup and support from both Sally Bell the UK agent and distributor, and Monique and John Craig in the USA.
Peter Vincent, Dip WCF, farrier, Dorset
---
I'm a traditional sort of farrier, so when Sally asked me to use the shoes on her horse, it was with some trepidation that I agreed! It took a couple of shoeings to get it 100% right – but we didn't have all of the information which is now available to farriers, and had to work quite a lot of it out for ourselves. The horse performed well in the shoes, I learnt more about them, and so began to use them on several other horses on my round with a variety of problems – all of them, without doubt, were much more comfortable in the Eponas' immediately, and this has continued to be the case. For the horses, it must be a relief to have their hoof loaded appropriately, with a material which is sympathetic to how their foot needs to function – it's obvious when you think about it. The glue and packing can also be used in different ways to cater for almost anything you'll come across, making this one of the most flexible shoeing systems available, and the results are speaking for themselves.
I'm now really enjoying fitting them – it's much easier than working steel shoes. My advice to any farrier is to cast your worries aside, just remember that you're working in a different material (to steel), so take on board the fitting advice, and give them a go.
Andrew Ball, Dip WCF, farrier, Winford, Nr Bristol
---
I have used the EponaShoe on several occasions with good results. The best example I can give is one where I attended a horse with severe laminitis. The horse had gone for eleven weeks without seeing a farrier so the foot was at a critical stage. The glued on EponaShoe gave the front feet support and balance, enabling me to allow for reconstruction of the foot. The horse regained stability and was able to resume light ridden work.
Mark Brown, Dip WCF, farrier, East Sussex
---
I have used the EponaShoes, both with glue and just by nailing, on 3 horses, and have had great results with them all. The one pony in particular was a laminitic which would normally require sedation to be shod as he is very naughty - I just glue the EponaShoes on and they last several weeks.
Paul Armstrong, Dip WCF, farrier, Tamworth, Staffordshire
---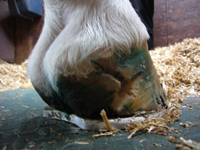 A horse was presented to me with vertical and horizontal conjoined medial hoof wall cracks, in addition to a significant medial heel shunt (with some shearing to the heels) to his left forefoot. A secondary problem was the horse forging and badly damaging his hind dorsal walls. He currently had aluminum heart bars on his front feet, and normal steel hunter shoes on his hinds. He was sound and in full work for eventing, but the hooves were getting worse. The vet had examined the horse and confined him to box rest until I could assess him, and we could discuss possible treatment options. I had heard of EponaShoes via a friend and thought them a possibility, so we also both spoke to Sally from EponaShoe, who was really helpful in advising us how the shoes could be used in this case, and why they may help.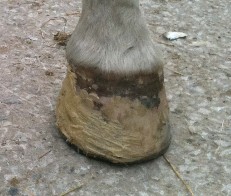 Along with correct trimming, we needed a balanced, symmetrical shoe we could place around the centre of rotation, which would also give a medial extension which wouldn't get trodden on (due to the nature of his work), and allow us to float the medial heel, repair the crack, stop the gouging of his hind dorsal walls, and maximize the chances for the crack to heal. We were able to achieve all of this by using glue with the EponaShoe, and the horse was back in work 4 weeks after the first shoeing. He had started to grow new strong horn above the crack, and the damage to his hind feet had stopped. His owner reported he was going well, and her instructor thought he was better than previously. The crack continued to improve and quickly grew out completely. He was never lame, and has stayed in the EponaShoes, with stud holes for eventing. I keep a careful eye on his foot balance so the heel shunt doesn't return.
Mark Wood, Dip WCF, farrier, Keighley, W Yorks
---
I have used the EponaShoe on two cases of foot pain, one laminitic and the other, a fractured pedal bone. Following application both cases were dramatically improved straight away and remained so, allowing both to be weaned rapidly of painkillers. I will always consider these shoes as an excellent alternative for use in foot pain.
Duncan Ballard, BVM&S, Cert EP, MRCVS, Bushy Equine Vets, Failand, Nr Bristol
---
"I found the EponaShoes helped my horse build up strong heels following a long period of lameness. They gave very good grip, helped prevent concussion, and took him through to doing 80km endurance race rides again."
Camilla, Worcestershire
---
"About 5 weeks ago I ordered a pair of EponaShoes for my daughter's elderly and laminitic pony. My farrier fitted them, and we have not looked back since, she loves them! My daughter is so happy that she can ride out and do whatever she wants. I cannot believe the difference in the pony, she is so much happier in these than she was in metal shoes. Many thanks for your prompt service and help."
Helen, Staffordshire
---
"I've ridden the cob out twice now, and he feels as if he's walking on air – just marvellous! In the metal shoes he felt preoccupied with his feet and where he was putting them, especially going downhill and on the stonier lanes, but he's just sailing along now and feels wonderful. He's just like his old pre-laminitis self and showing off his best welsh cob trot. We love our Epona's!"
Liz, Shropshire
---
"I have been using EponaShoes for over a year now and am currently competing in them in affiliated eventing at BE100 level. My horse is an ex flat racer and suffered from extremely flat feet with low heels, coupled with unusually sensitive and thin soles. After two shoeings in standard shoes he started suffering from bruised heels and on veterinary and farrier's advice was put into heart bar shoes. I competed him in these shoes but he was always "footy" on very hard ground, frequently pulled them off and he still wasn't growing any heel.
I thought there must be something better out there, started investigating and discovered EponaShoes. Having spoken to Sally she suggested that the steel heart bar shoes could be crushing his heels rather than helping them to grow down and suggested giving the shoes a go. Since using EponaShoes she has been readily available with advice and photographs, particularly in the early days when my farrier and I were not the pros that we are now!
Contrary to popular belief EponaShoes actually last longer than regular metal shoes (assuming road hacking 2-3 times a week) and I am able to achieve three shoeings from each set. I have competed with these shoes on the front feet in all three phases of eventing, on surfaces and on grass. I have used shoes with and without studs (which simply screw in like regular studs) and the only time I had a problem was with particularly deep going combined with rain where studs give no grip at all. In these circumstances my horse didn't cope very well in the dressage arena (which resembled a ploughed field) but was fine cross-country.
The only other problem I have had was keeping the shoes on in the Cumbrian winters in deep clay and particularly in sloping fields. A lot of these problems are due to the conformation of my horse's feet as it is difficult to use the back nail holes and therefore the best method has been to both glue and nail the shoes on. My farrier was completely new to fitting these shoes and although initially sceptical he has willingly admitted that these shoes have definitely helped the horse grow more heel. I can actually see how the heel has grown down and the vet has commented on how much better his feet look. Since using these shoes my horse has not suffered any more bruising or foot problems and seems much happier competing on hard ground.
I would therefore urge anyone with a horse with similar feet to mine to consider EponaShoes for both the long term benefit of their horse and their own pocket in reduced vet bills."
Caroline, Cumbria
---
My horse has low ringbone so I use EponaShoes because they considerably reduce concussion. My vet is delighted with the shoes and fully supports my decision to use them. My horse (and my farrier!) took to EponaShoes without any problems and he seems very comfortable in them. I've found them really hardwearing and have been able to have sets re-fitted 3 times over despite daily riding, plenty of road-work and a not-very-light-on-his-feet cob! (This makes them as cost effective as steel shoes as I only pay the farrier for re-fit each time). My horse has never lost an EponaShoe despite occasionally being a bit of a loony in the field - I just have them nailed on like conventional steel shoes - and they've never been pulled off in deep going, although I am yet to go through a full blown British winter in them. My horses feet are in good order, he is sound and in full work and I'm sure this has a lot to do with his EponaShoes. On top of that, my experience with Sally from EponaShoe (UK) has been exceptional, she provides a superb service, is hugely knowledgeable, professional, dedicated and honest and a genuine pleasure to deal with.
Penny, Hampshire
---
My horse had a very bad attack of laminitis three years ago and my farrier suggested EponaShoes. They were perfect for him, just like trainers! They helped with concussion, protected his soles from the flinty tracks, gave him frog pressure and allowed his foot to expand and contract in a natural way. Last year my husband was out of work and I asked my farrier to use ordinary metal shoes behind to save a few pennies. What a false economy – after only one shoeing interval without the flexion in his heels his shoe size had decreased and it took a further four intervals to expand again. Beware all penny pinchers - I certainly won't be making the same mistake again.
Janida, Kent
---
I started using EponaShoes 3 years ago when my 13 year old Connemara gelding was first diagnosed with navicular syndrome. Despite having rolled toes, he had always stumbled a good deal but I thought he was just being idle! Following a lameness work-up, however, he was discovered to have navicular (of the bursa) and arthritis in his hind hocks.
I was determined to find a shoeing solution that gave him heel support, but wasn't as concussive as a metal shoe. Happily, I found an article in Horse and Hound on EponaShoes and contacted Sally Bell who gave me a wealth of advice and supplied me, my farrier and my vet with lots of useful information. The correct shoe size was duly ordered, shoes fitted and I have not looked back since!
Blue's stride improved, he was able to march down hills comfortably once again, and he was easy in himself. What's more, I found that I was able to re-fit the Epona shoes at least once – sometimes twice – as they are very durable. Blue's feet are in wonderful condition and my farrier finds them just as easy to fit as a normal steel shoe. I use the normal fitting method of nailing on and they have never been pulled off, even in the muddiest of conditions.
Epona shoes have certainly given Blue a better quality of life and he is still out there giving us the ride of our lives!
Irene, Hertfordshire.
---
Valfreya is twenty-four years old and has been with me for eighteen years. About five years ago she started to become 'footy' from about May onwards and I was unable to ride her throughout the summer. I thought maybe she had laminitis but after a Veterinary examination and tests the vet said "No" - he thought it was the hard ground.
She had been a good servant to us and we thought perhaps it was time to retire her, although I was reluctant as bodily she looks like a 10 year old.
Then by chance I was reading an article in Horse & Hound about some other plastic shoes and EponaShoes were mentioned but no details. I looked on the EponaShoe website and couldn't wait to speak to my farrier to order some. Initially she was only shod in front, purely because of the expense (which turned out to be not all that much as I have them re-fitted), and had metal shoes behind, but I was unhappy about this as I thought it would unbalance her body. The change in her was miraculous. No longer hanging about by the gate - previously she hadn't wanted to go out as our paddocks are on sandy soil making them rock hard during the drier months. She was cantering and playing and had longer, lighter strides when being ridden. After a few shoeings she had them on behind as well, and during the months following, her body shape changed. Her hind quarters became rounder -she had never been quite in proportion - this was also noticed by her physiotherapist.
Carole, Staffordshire
---
My horse has congenital club foot, and was always what I would call 'bridle lame' especially going down hills and on hard surfaces. She also was not often keen to go forwards properly in the school. This gradually worsened, and subsequently, x-rays were done about 2 1/2 years ago, which showed bone spurs and significant arthritic changes in her foot. These are changes are likely to be largely due to the club foot and how this affects her pedal and pastern bone alignment. I was advised by my vet to only walk on the roads, and see how she went when worked on school surfaces, so it seemed we were destined to have rather a boring work regime!
I first used the EponaShoes on her about 2 years ago, after reading that the shock absorbing properties the shoes provide often help horses with any arthritic type changes, as reduction in concussion is key to making them more comfortable. My horse now strides out on the road, marches down hills, and is totally sound on all surfaces. I can hack 'normally' in walk, trot and canter, and have even started to do small amounts of jumping! Whilst I know that her conditions will always exist, due to the EponaShoes I now have a horse who is sound and comfortable, and we can enjoy doing a variety of disciplines together.
Jess, Jessica's Pet Care, Clutton, Nr Bristol